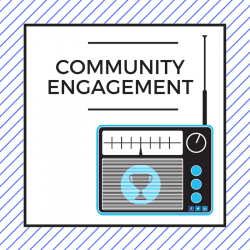 Award for Excellence in Community Engagement (NEW)
This award honours how your station has helped your community in the past year. This can include programming, special events, charity, fundraising, partnerships with other local organisations or anything else that made a difference. This award may also recognize the effort made in extraordinary programming, such as a one-day marathon or broadcast local event. The focus will be on programming which engaged the community.
Criteria: A letter written by the station on the work conducted in the past year to improve the community. If desired, letters from the community, and/or audio no longer than 10 mins.